SWKF India Kyu And Dan Form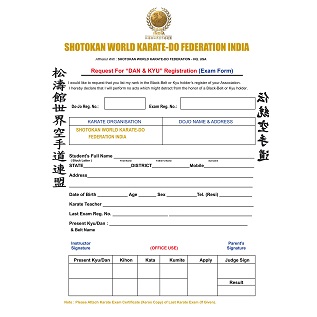 Download
Criteria For The Grading
...
Grading is invitational and you should sign and bring all the forms back before the deadline. Karate ka (student of karate) will be called randomly and should know all the requirements and perform accordingly based on their next level that they wish to reach and they need to:
Wear the uniform with the Shotokan World karate-do Federation India logo.
They need to know all the 20 precepts of Gichin Funakoshi.
Karate ka needs to know their kata(form),basics(kihon), kihon kumite(predetermined sparring), jiyu kumite (free sparring),and bunkai (explanations of shotokan karate-do technique). And Japanese terminology.
Karate ka must bring all their safety equipment for kumite (sparring) testing.
Grading will be considered like karate tournament rules. If you make a mistake one time you will fail. For example in kata testing if you say heian shodan and perform different kata you will fail. Eye direction ,balance, power, speed, the rhythm of the kata should be done correctly. As well as spirit of the kata, fighting spirit (zanshin).
We May not ask you all the requirements but the asking technique has to be done correctly with maximum effort without hesitation.
Remember your next belt is not a gift or prize basically you should earn your belt based on your control, manner, character, knowledge, terminology, and understanding of the technique and your highest performance and remember karate begins with respect and ends with respect. Overall, you need to score over 80 in order to pass the grading. For the grading you must pay the following fees: (not refundable).

grading fee(varies with level)
karate passport fee Rs.500.00 (one time fee).

Please think positive and you will succeed. If you fail don't worry you register again and you will do it within two months. Note: for all the black belt grading there will be 2 years probation in order to receive their certification. If any of the black belts leave the club without permission, or disrespectfully, and/or join another association without a proper way of respect and explanation their certification will be expired immediately.